Seawater Desalination Plant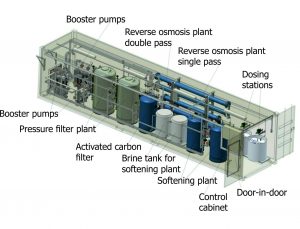 Raw water with a TDS of up to 40.000 ppm serves as a raw water source for the desali- nation plant. For prevention of accumu- lation, suspended solids on the membrane surface the raw water is filtered over a fine filter. This pretreatment measure guarantees that no solids interfere with the desalination process.
Reverse osmoses is a reliable technology for desalination. Therefore the required intake water quality to the reverse osmoses is essential. It is known that, most of the operation problems of an reverse osmoses system is linked with poor quality of intake water to the reverse osmoses.
It ́s very important to take proper pretreat- ment technology in order to optimize the lifetime of membrane, chemical dosing duration, operation cost, project construc- tion space, project capital investment, and so on. Therefore, an efficient pretreatment has to be established by the client to guarantee the system running.
The desalination equipment is installed in one container, which is completely prefabri- cated.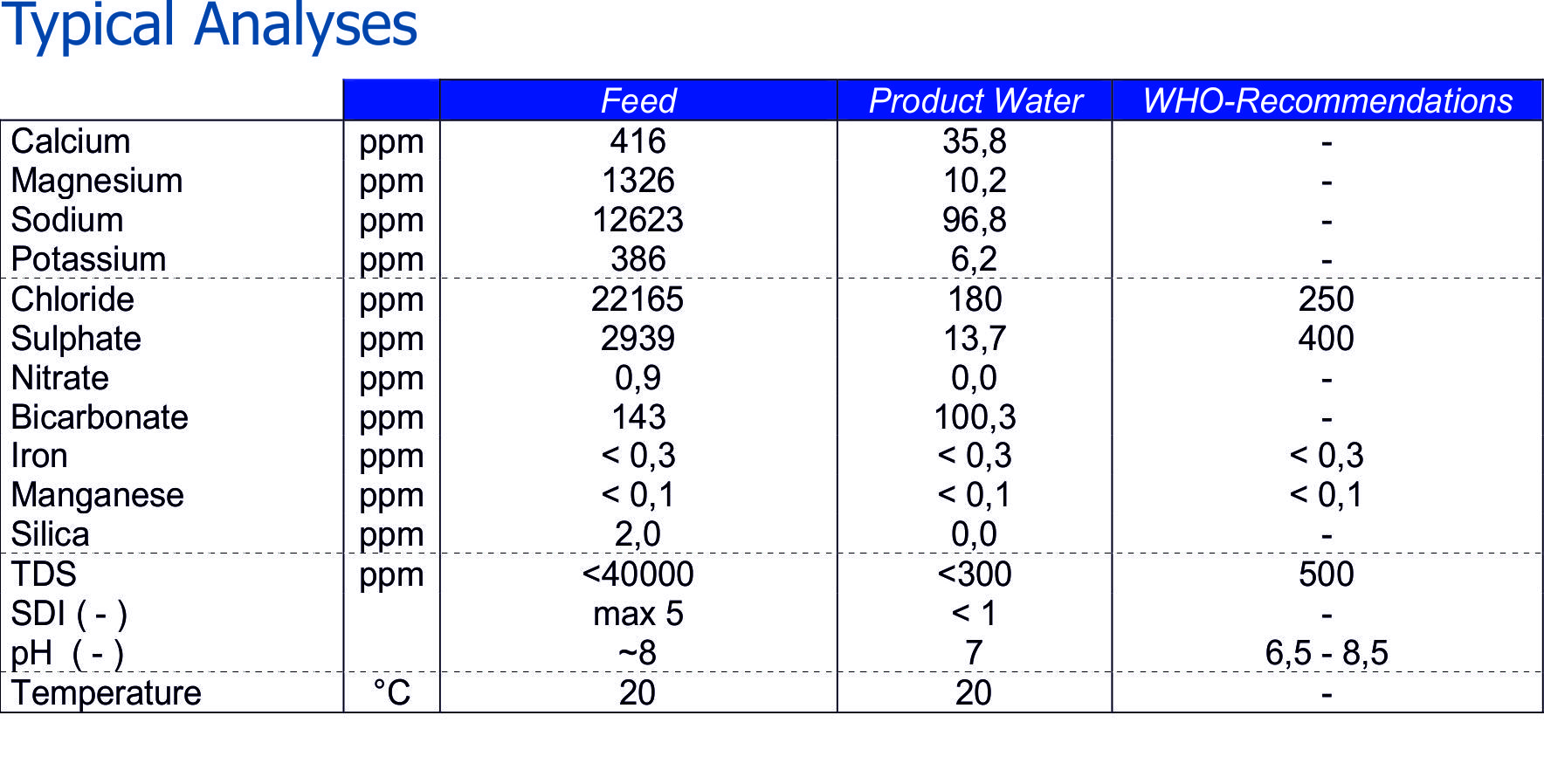 Production of drinking water and water for irrigation and industrial processes. Containerized package plants with a capacity up to 500 m3/day consisting of:
Scope of Supply
Container-frame:
40 ft according to ISO- standard (12,4 x 2,4 x 2,8 meter).
Fine filters:
100 % standby, easy hand- ling, bag filters rating: 5-10 micron, non corrosive plastic housing.
Pressure pump, Energy recovery:
high-efficient plunger pump
RO-elements:
8″ spiral wound high re- jection type, OEM-warrenty 3 years.
Pressure vessels:
high-quality GRP-vessel.
Chemical dosing:
2 complete dosing stations for acid and sodiumbisulfite including stand-by pumps.
Cleaning unit:
complete automatic cleaning-in-place ("CIP") system.
Remote control:
GSM-based on-line support

Highlights
Low specific water costs due to high energy efficiency: ~2,5 kWh/m3 (with energy recovery)
Compact modular units
Low chemical consumption
High quality materials like GRP, seawater resistant
stainless steel (SMO 254, 1.4539 Duplex)
All plants are function-tested prior to dispatch to allow for quick start-up at site
Complete installation into a 40 ft container

Options
pH Adjustment
Remineralization

Post disinfection

Data monitoring
ACON Environment GmbH optionally provides all required pre- and post treatments, according to your water analyses and permeate requirements.